Thanks again to all the beta testers out there. Your error reports helped us fix many many bugs already. Since we will now provide new builds on a weekly or sometimes bi-weekly basis, we've improved the update check routines. In the Options dialog you can now configure an update check when Royal TS starts and you can also include beta releases in the check. If you are running a beta version, the "Include Beta Releases" setting will be ignored and Royal TS will always inform you about new beta releases. The Check now… button will execute the check immediately: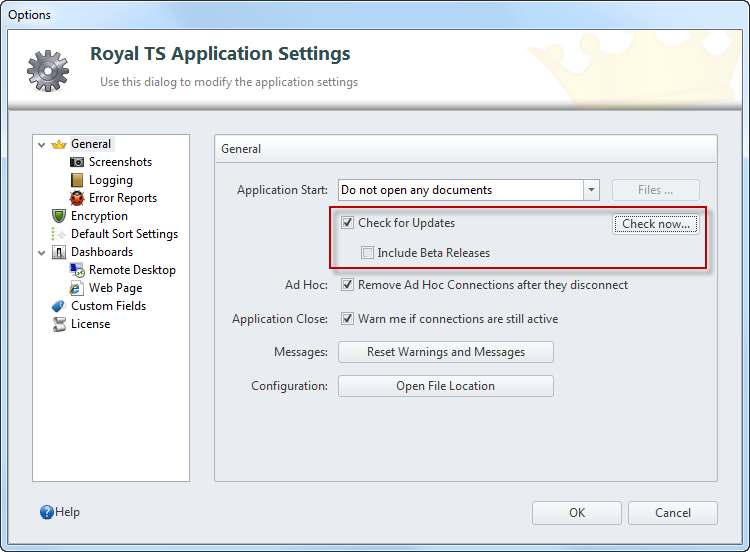 Of course you need an internet connection in order to check for updates. When Royal TS finds a new version, a popup like this will appear: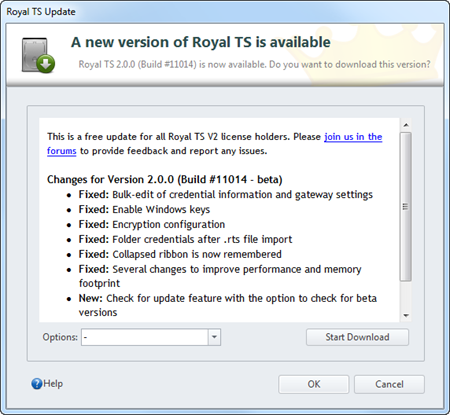 Btw, the changes you see above in the screenshot are basically the changes for this release.
If you click on "Start Download", the .zip file (for betas) or the .msi file (for regular releases) will start in your default browser. The "Options" drop down allows you to select "Skip this version" or "Remind me later".
Have fun testing this release and have a nice weekend.
cheers!