Today we're glad to announce that another feature packed release of Royal TS (for Windows) is available! Version 4.2 contains lots of cool new features, various improvements across the board, many bugfixes and even a new object type that'll help you stay organized.
So lets dive right into what's new:
Support for To-Do items
Since we're already making your life easier by providing you with the tools to manage all your remote connections, we thought it would only be logical to also help you manage your day to day tasks. So starting with this release, you'll be able to create To-Do items right in Royal TS, add a title and description for them and when the time has come, mark them as completed.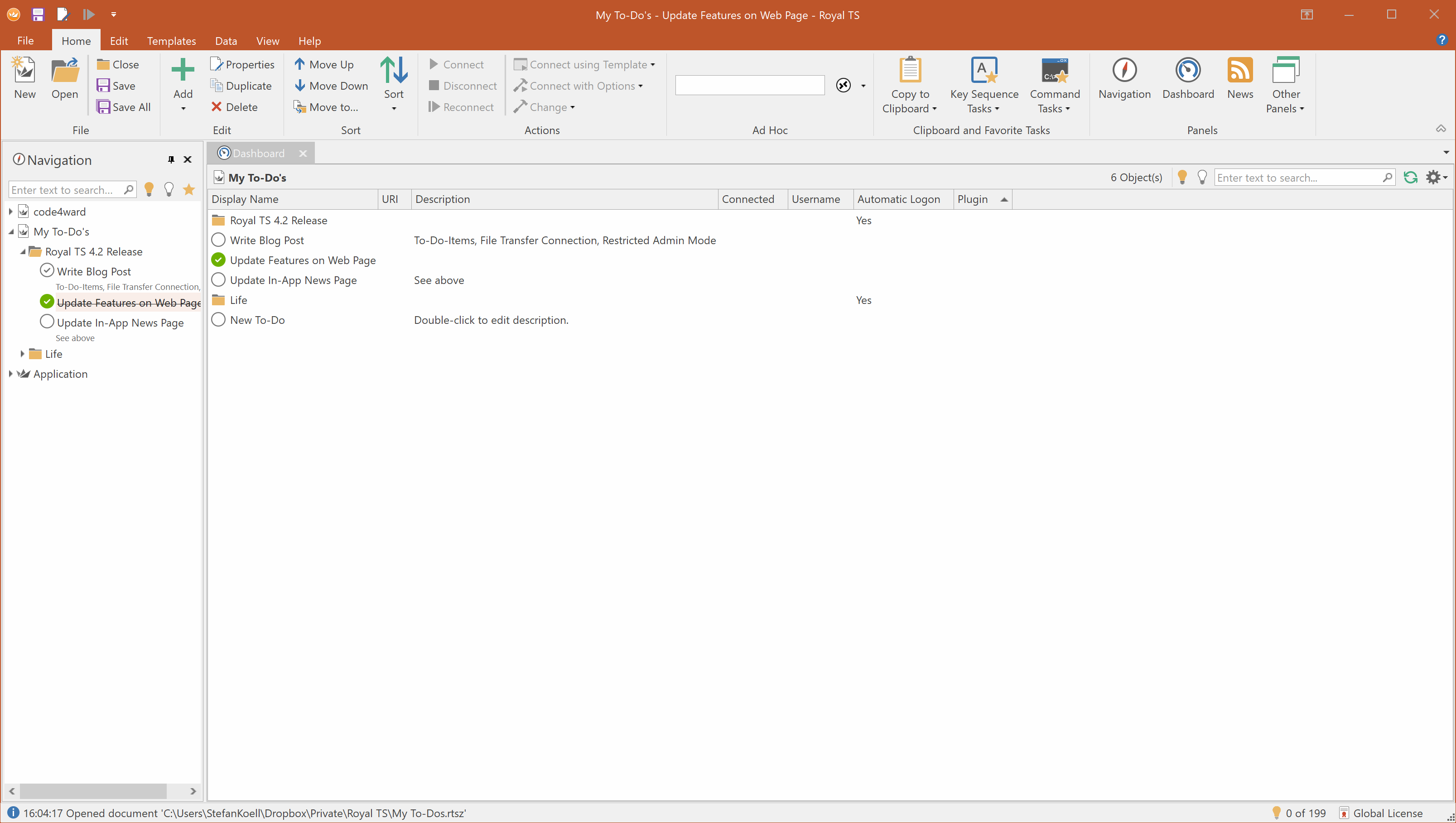 Double-click a To-Do item to edit the description: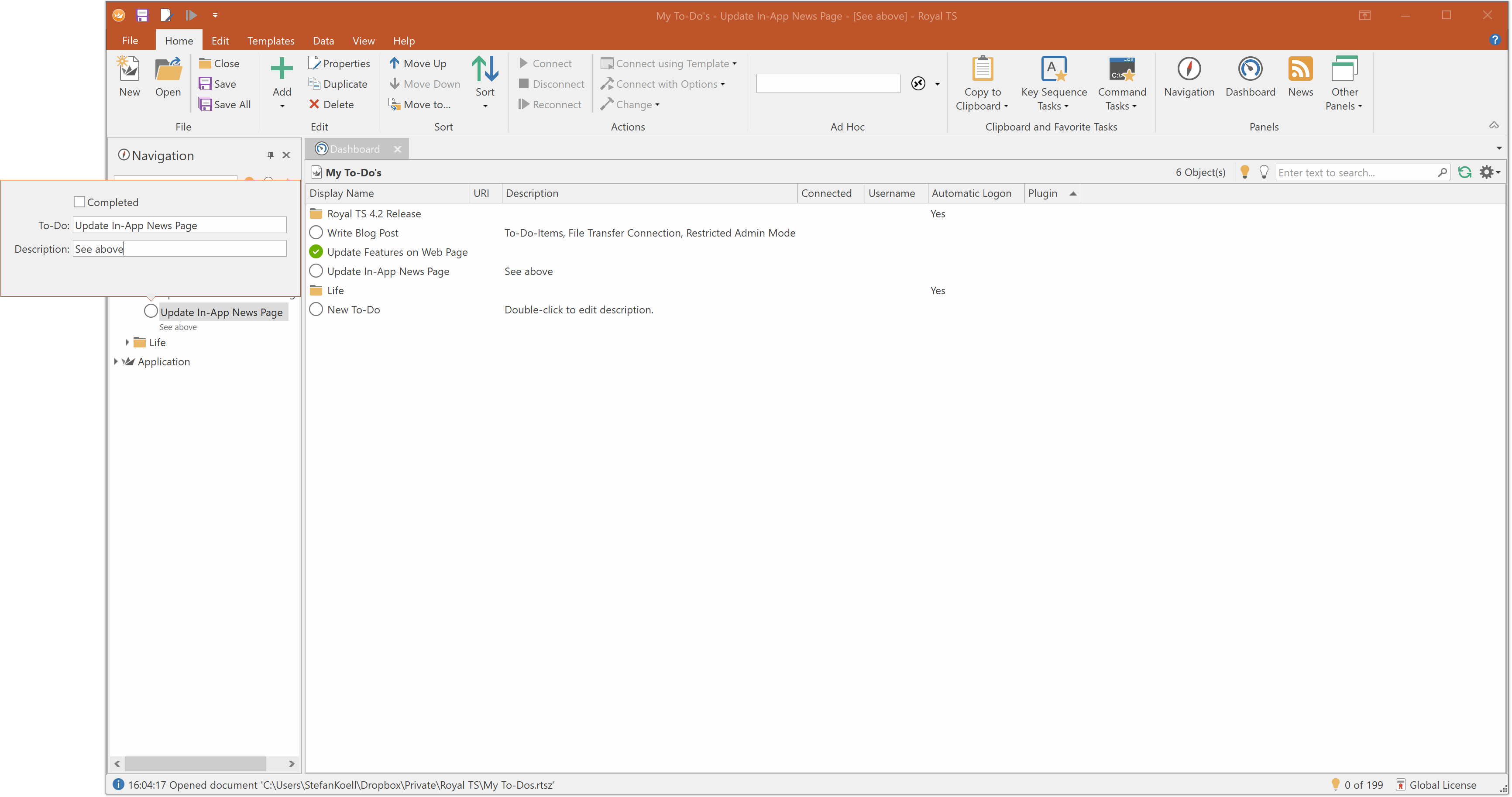 File Transfer Connections
File Transfer connections also received several noteworthy updates in this release. Here are some of the highlights:
In SFTP connections you can now edit the permissions of files and folders: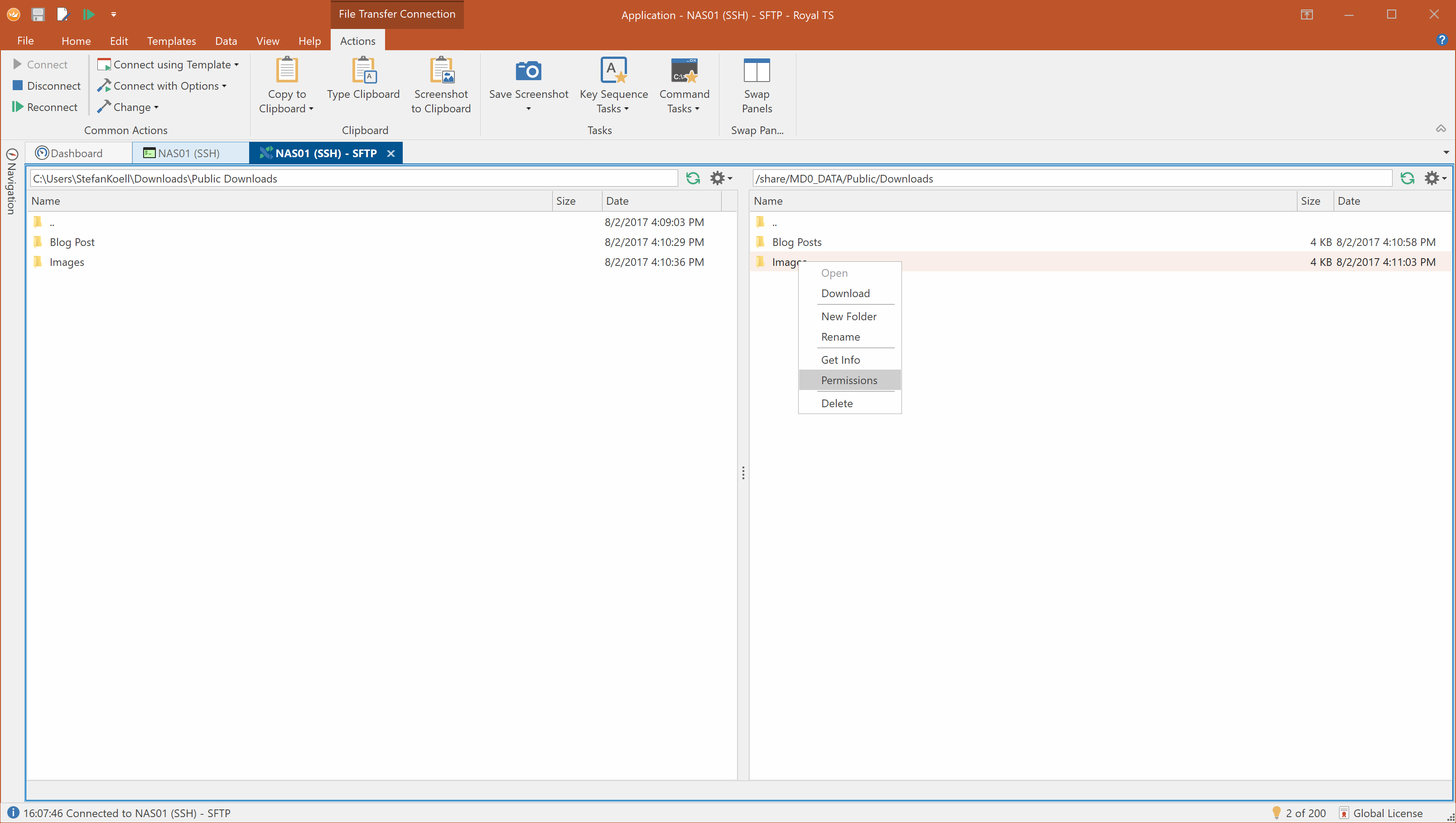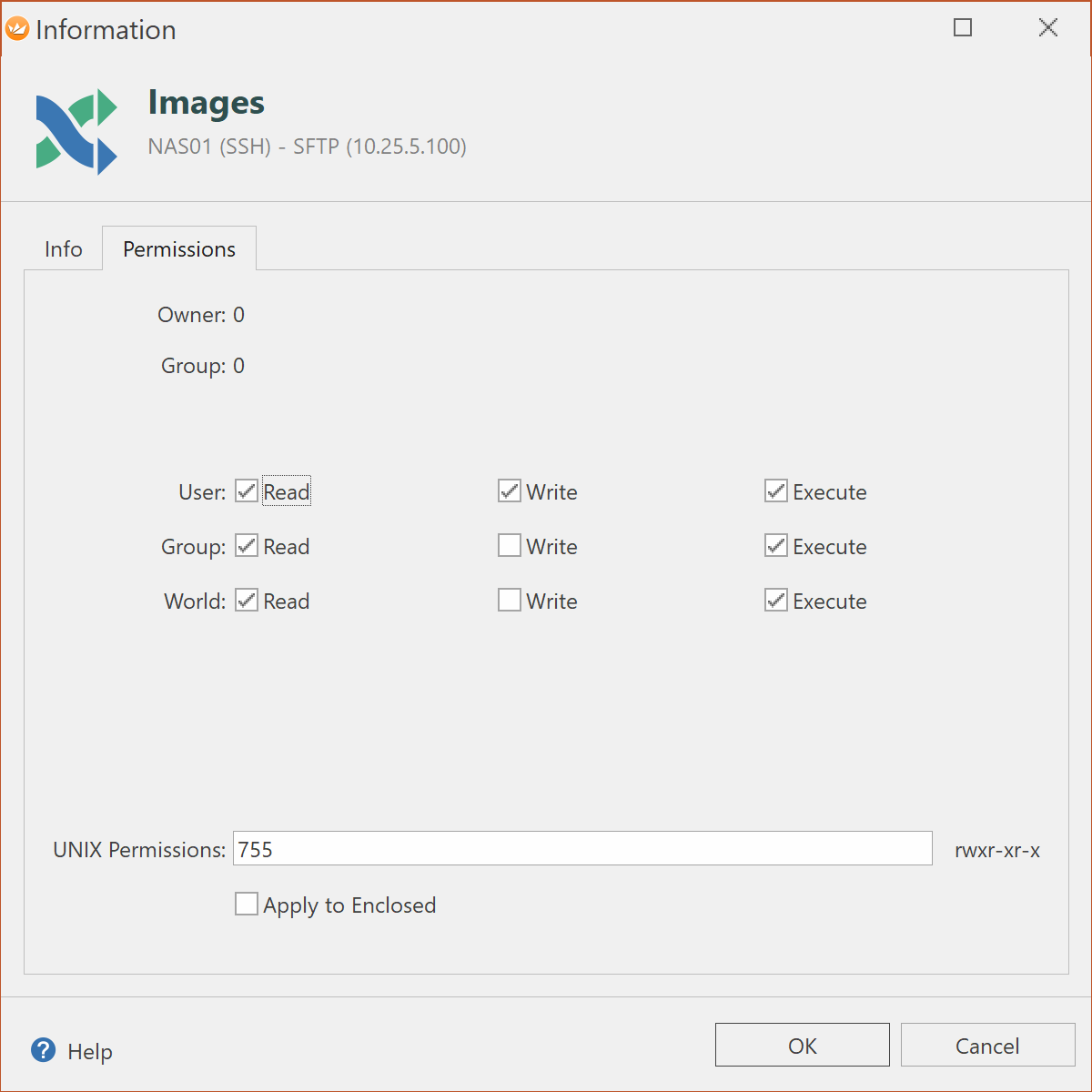 Live Edit automatically uploads files when the file is changed locally (double-click a remote file to start editing it).
We've added support for viewing and changing permissions (right-click and select "Permissions").
It's now possible to select a different credential when running into authentication errors while connecting to a server.
Other improvements
Other notable new features and improvements include:
Restricted Admin mode for RDP connections: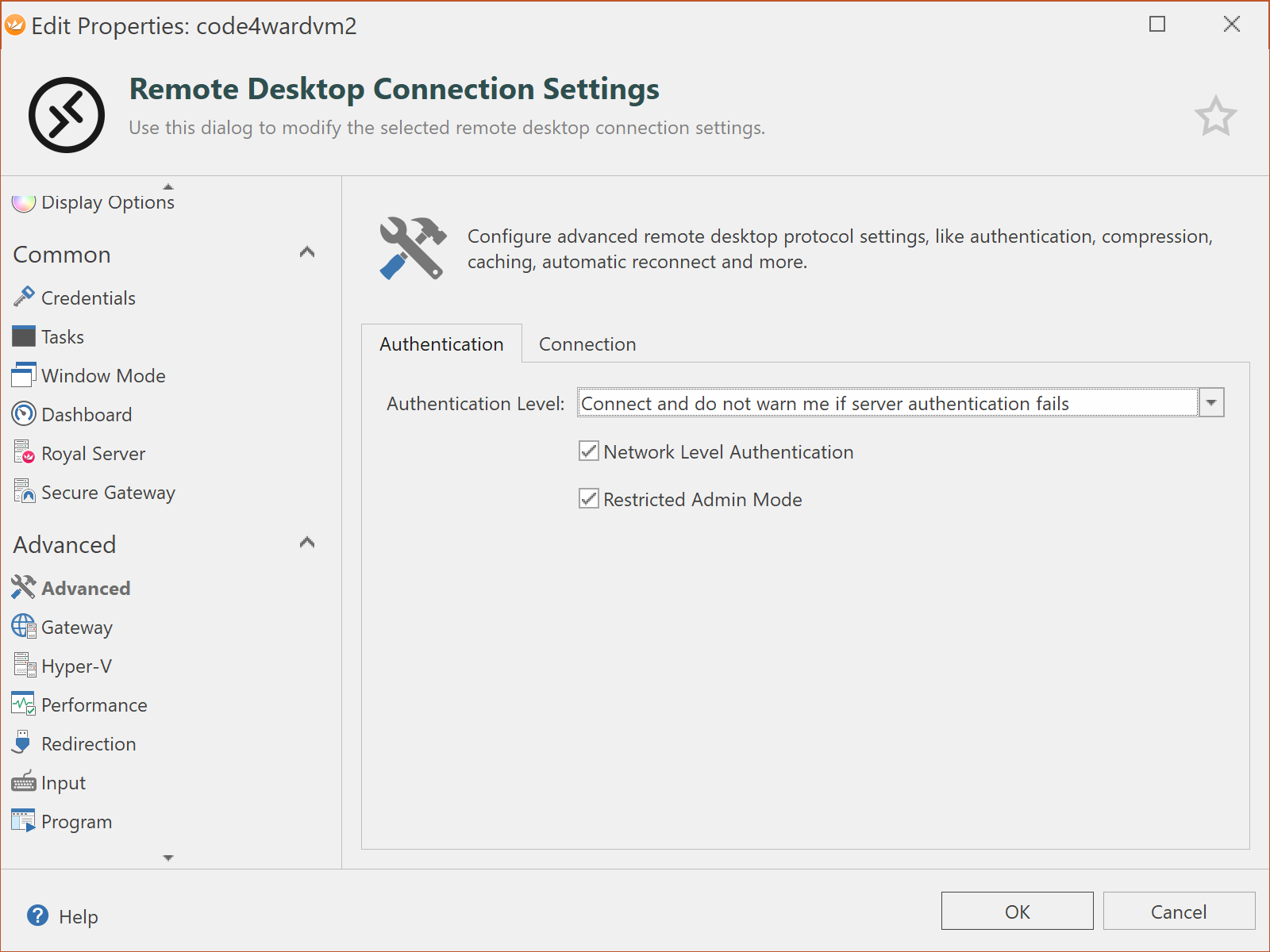 Import of mRemoteNG 1.75 documents is now supported (without passwords).
We added support for Date and Time replacement tokens in Key Sequence Tasks and Command Tasks.
Support for bookmarks in notes.
Extension to the "Connect with Options" menu to override a secure gateway or directly connect without a gateway.
Ability to specify a template using the command line.
Terminal (Rebex based) and File Transfer supports now Elliptic Curve Cryptography (Ed25519, NSTP, Brainpool and Curve25519)
PuTTY version 0.70 with support for ChaCha20 cipher.
A basic download manager for the Chrome browser plugin.
Of course, this is just a quick peek at some of the highlights in this release. More detailed information and the full changeset (including bugfixes) is available in the release notes.
Also, check out the updated System Requirements page. Royal TS V4.2 and later now requires .NET Framework 4.7.