Beginning of June we were presenting our new product, Royal Server which expands the functionality of our existing Royal TS/X clients (for Windows and OSX, and soon Android and iOS) substantially.

The unique thing about the E2EVC conference is that it is completely community-driven (by the energetic Alex Juschin) and its tagline is "Experts to Experts". So you don't find any marketing blah there. 😉
Our Session: vNext of Royal TS/X and Royal Server
We prepared our session in a way that it contained only demos – not a single Power Point slide. Since the internet connectivity at E2EVC was down half of the time we prepared everything we needed on our MacBooks (multiple VMs that act as server and clients).
Royal TS/X vNext
We started off with a lap around the fresh UI we implemented in Royal TS (for Windows) and the new Web Connection plugin that is based on Google Chrome – we heard rumours, that not all websites work smoothly with the IE based version we had so far… 😉
The biggest additions to Royal TSX (for OS X) V2 are bulk edit and dashboards.
New Connection Types
Our re-write efforts of some base functionality in Royal TS V2 now really pay off: We are able to implement new connection types easily. So we have brought in a couple of new connection types that we are sure you will love:
Terminal Services known already from the RDP dashboard, also available as a separate connection type now
Hyper-V Sessions basic Hyper-V management as known from the RDP Dashboard
Windows Events view Windows Events from multiple hosts at the same time, group/sort/filter as you wish and your view/query is stored automatically and reused when you connect again!
Windows Services start/stop Windows Services (even across multiple destination hosts) with a single click
Windows Processes manage remote Windows Processes, kill them if needed
Of course, all of the new connection types are integrated with the already existing powerful Template Functionality allowing you to define templates for these connections and applying them to one or multiple connections with a single click.
And: All new Connection Types are of course also available in Royal TSX (for OS X)! And while this is cool to have on OS X (and a first in the industry), it really shines on the mobile platforms. Imagine browsing the event log or restarting a service from your iPhone without panning the screen and moving around mouse cursors…
We will create a set of blogposts covering each of the Connection Types in more detail in the near future.
Royal Server
All the previously mentioned connection types are based on Royal Server – which enables us to be fully cross-platform: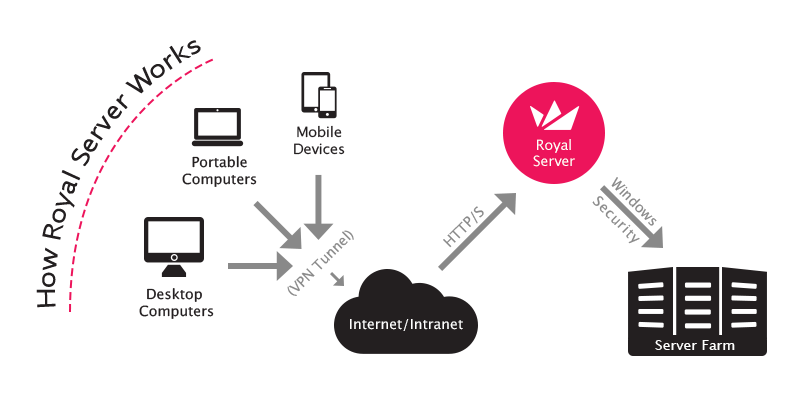 The basic architecture is based on common standards: HTTP/S for the communication between the clients and Royal Server, the security is Windows User Group based and we kept a close eye on easy deployment (single MSI which only requires the .NET framework installed).
Here are some impressions from the Config UI that we showed off at E2EVC:
We got some pretty interesting feedback and questions during the session – our swag bags were gone quickly 😉
Whats next?
The connection types we have implemented so far are just the beginning. With the architecture in place we will surprise you with a couple more, way more powerful connection types in the near future … 😉
If you are interested, make sure you sign up for the public beta of Royal Server and keep a close eye on our blog as we will write a series of blog posts on Royal Server and how it is perfectly integrated with Royal TS/X.