We are really excited to announce the public beta of our next major releases of Royal TS/X as well as Royal Server today!
Royal TS/X – the next major versions
In the last months, we have been very busy to build the next version of Royal TS/X – from today on, Royal TS (for Windows) V3 beta as well as Royal TSX (for OS X) V2 beta are available for download:
Download the latest beta of Royal TS (for Windows) V3 here
Download the latest beta of Royal TSX (for OS X) V2 here
Highlights of Royal TSX (for OS X) V2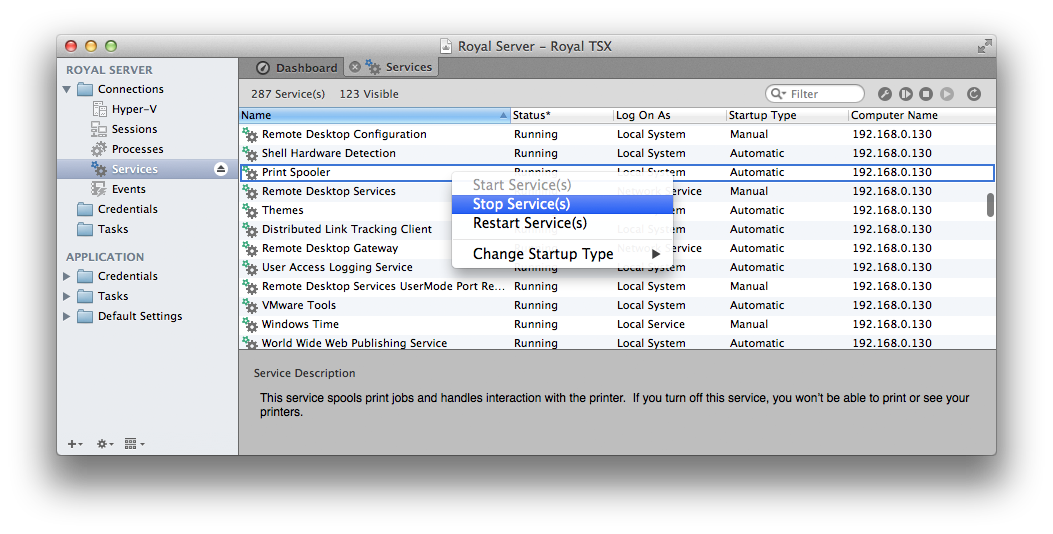 Dashboards Manage hundreds or thousands of objects with ease. Integrates perfectly with our new management connections, allowing you to get a quick glance at what's happening inside your datacenter.

Multi-Select & Bulk-Edit Finally! Never again click through hundreds of settings pages just to update a bulk of connections. The folder dashboard allows you to select multiple objects and modify their properties all at once.

Full integration with Royal Server You can now work with Windows Events, Windows Processes, Windows Services, manage Hyper-V instances and Terminal services from OS X!
Highlights of Royal TS (for Windows) V3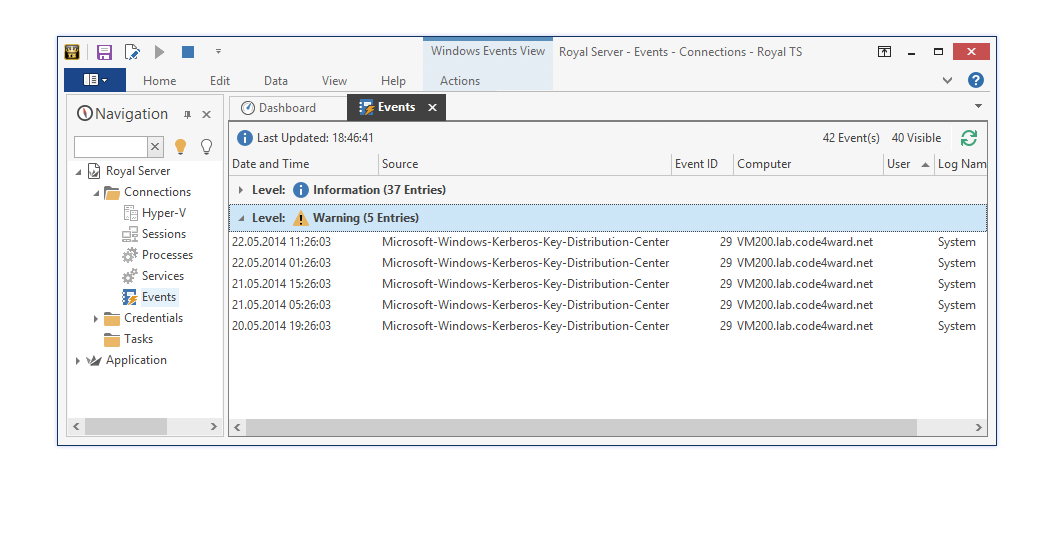 Redesigned UI Royal TS now matches Office 2013 style user interface and icons, giving it a modern look and feel. In addition, we cleaned up the ribbon and provide additional commands useful in your daily business.

Chrome based Web Page Plugin Choose between Internet Explorer or Chrome based web pages. Some web interfaces just don't work correctly with the embedded Internet Explorer web browser, so we are now offering a choice and let you run web interfaces in Royal TS using the Chrome browser engine.

Full integration with Royal Server This means support for Windows Events, Windows Processes, Windows Services. Hyper-V and Terminal Services management through Royal Server.

Support for additional languages V3 is finally supporting localization! If you are interested in a specific language or want to help us with the translation, just drop us a mail at [email protected].

Performance improvements for Rebex based Terminal connections

Many other improvements and tweaks

Introducing Royal Server
But getting our Royal TS/X software to the next level wasn't enough for us – we always think about our clients,  how their tasks and work is evolving over time and how we can support them best. The result is Royal Server – which can be downloaded here.
The Vision
Many common operations on remote servers should not require a remote desktop user interface (like RDP and VNC) – most of the time, a much simpler user interface that is focused on tasks will help you to get the job done faster. Additionally, only the requested data goes over the wire, no mouse movements, screen-data etc.
Example: you want to check if IIS is running on all your servers in your farm. It's not very efficient to connect to all your machines using RDP and check the service status in the services management console. Through Royal Server you can now query the service status for multiple machines and display the result in a powerful grid where you can slice and dice the data as needed. From there, you can even execute common tasks, like restarting a service.
To unleash the power of Royal Server, we integrated many new connection types in Royal TS/X:
Windows Events
Windows Processes
Windows Services
Hyper-V Management
Terminal Services Management
Each connection type offers a lot of features, so we will post dedicated articles for each type where we go into all the details. One of our main goals was to build a product, that is very extensible in order to build new functionality effortlessly – so extending the list of supported management types is not hard 😉 We have some really powerful modules in mind, but are also eager to hear from you: which connections and tasks do you need in your daily operations?
Installation
We made substantial efforts to ensure the installation of Royal Server is as simple and smooth as possible. Just download, install and configure Royal Server from here and you are up and running within minutes. Important settings for production environments (e.g. logging, securing Royal Server) can be configured easily in the Royal Server Configuration Tool. Watch out for a blog post about how to configure Royal Server in the near future.
More Information
You can find more information about Royal Server on our website, support portal and on our blog.
We are super excited to finally open Royal Server to the public and love to get your feedback and questions. With your input we can shape Royal Server, make it even better to fit your needs! Also, watch our blog over the few next days as it will feature a series of in-depth posts about Royal Server.
Cheers,
Michael, Stefan and Felix