Ho ho ho!
Today we're excited to announce the immediate availability of the first beta of Royal TSX 5.0 (for macOS)!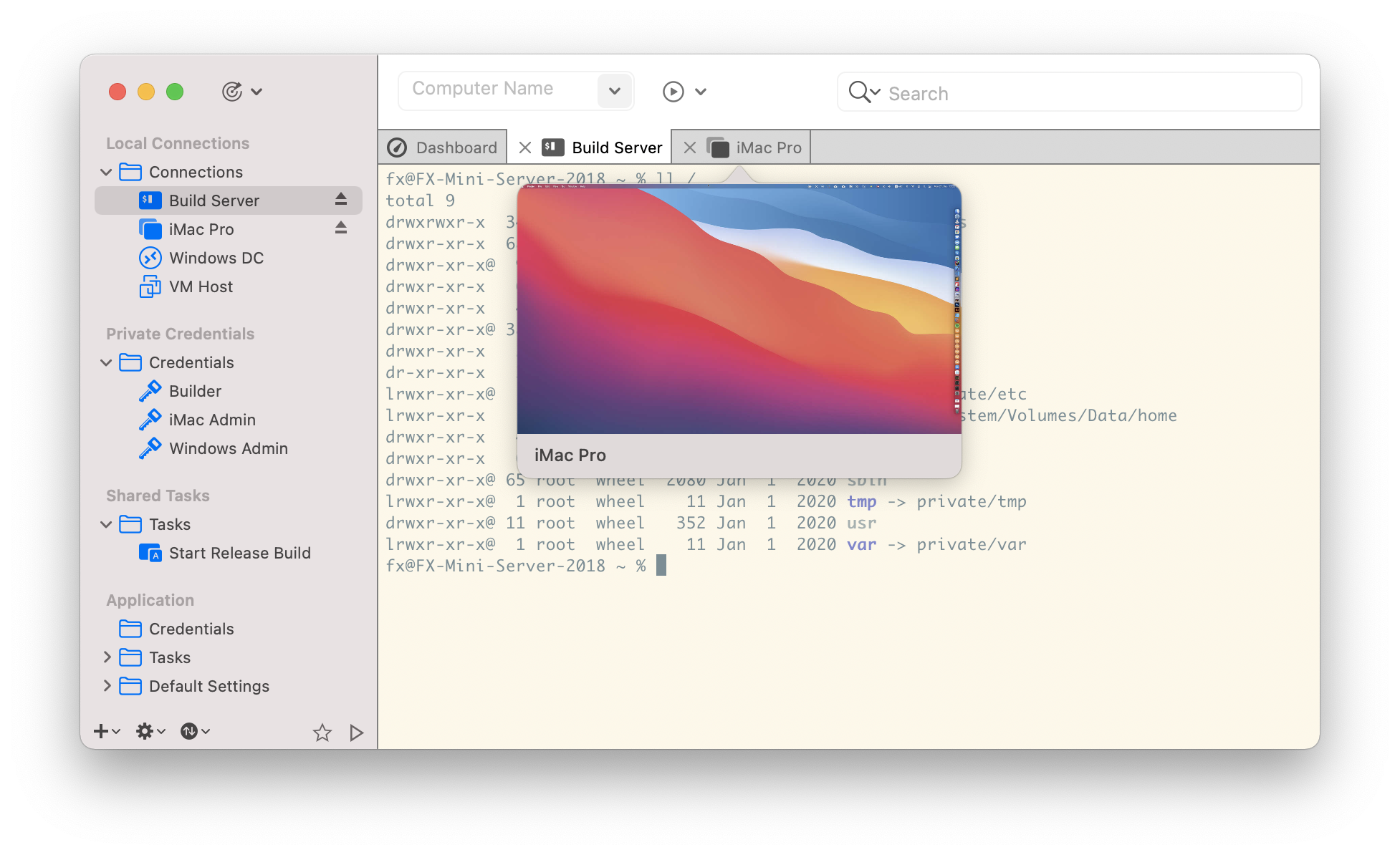 Royal TSX V5 is the next major release of our remote management software for Macs and it is packed with new features and improvements.
Banner features include a redesign that fits perfectly into macOS 11's design language, tab previews when hovering over tabs and most importantly this release natively supports Apple's awesome M1 machines!
By recompiling the app and all our plugins for Apple silicon, startup time and general performance has increased drastically. I don't think we're exaggerating when we say that Royal TSX really flies on Apple silicon.
There's an infamous saying: "Good artists copy; great artists steal". I guess this applies perfectly to the new tab preview feature in Royal TSX. From the moment we saw this feature in Safari 14, we knew that we wanted it in Royal TSX too. There are even settings to adjust the size of the preview thumbnails so you can make them fit your needs.
When we started working on the aesthetics of this release, it was clear to us that it had to fit perfectly into the new design introduced by macOS Big Sur. So, of course Royal TSX V5 has adopted the new design patterns and behaviors introduced in the latest version of macOS.
But we went a step further and gave every single icon used in Royal TSX a makeover. Some of them haven't been updated since the very first version of Royal TSX, released in 2012. So, naturally, this work has resulted in a much more uniform, cohesive and consistent look overall.
Of course there's a multitude of additional new features and improvements included in this release, and explaining every single one of them is beyond the scope of this announcement article. As the public beta progresses, we will post about some of the new features in dedicated articles.
We're excited to finally be able to get this out to you and can't wait for your feedback!
The download for the latest version of the public beta is available on our website.
As always with beta releases, please ensure you have created backup copies of your documents and preferences before updating.
Merry Christmas from the whole Royal Apps team!