Today, we're excited to announce that new major versions of Royal TS (for Windows), Royal TSX (for macOS) and Royal Server are available now!
These releases are packed with improvements across the board and major new features which we're certain will give you a massive productivity boost.
For the past two years we worked hard to make these the best versions of our products we ever released! While the Coronavirus crisis certainly had an impact on all of us, our remote work culture helped us navigate through these challenging times. We hope that our products even helped YOU to improve your work-from-home experience and be more productive in a new environment.
So without further ado, let's dive right into what's new, starting with Royal TS.
Royal TS (for Windows) 6.0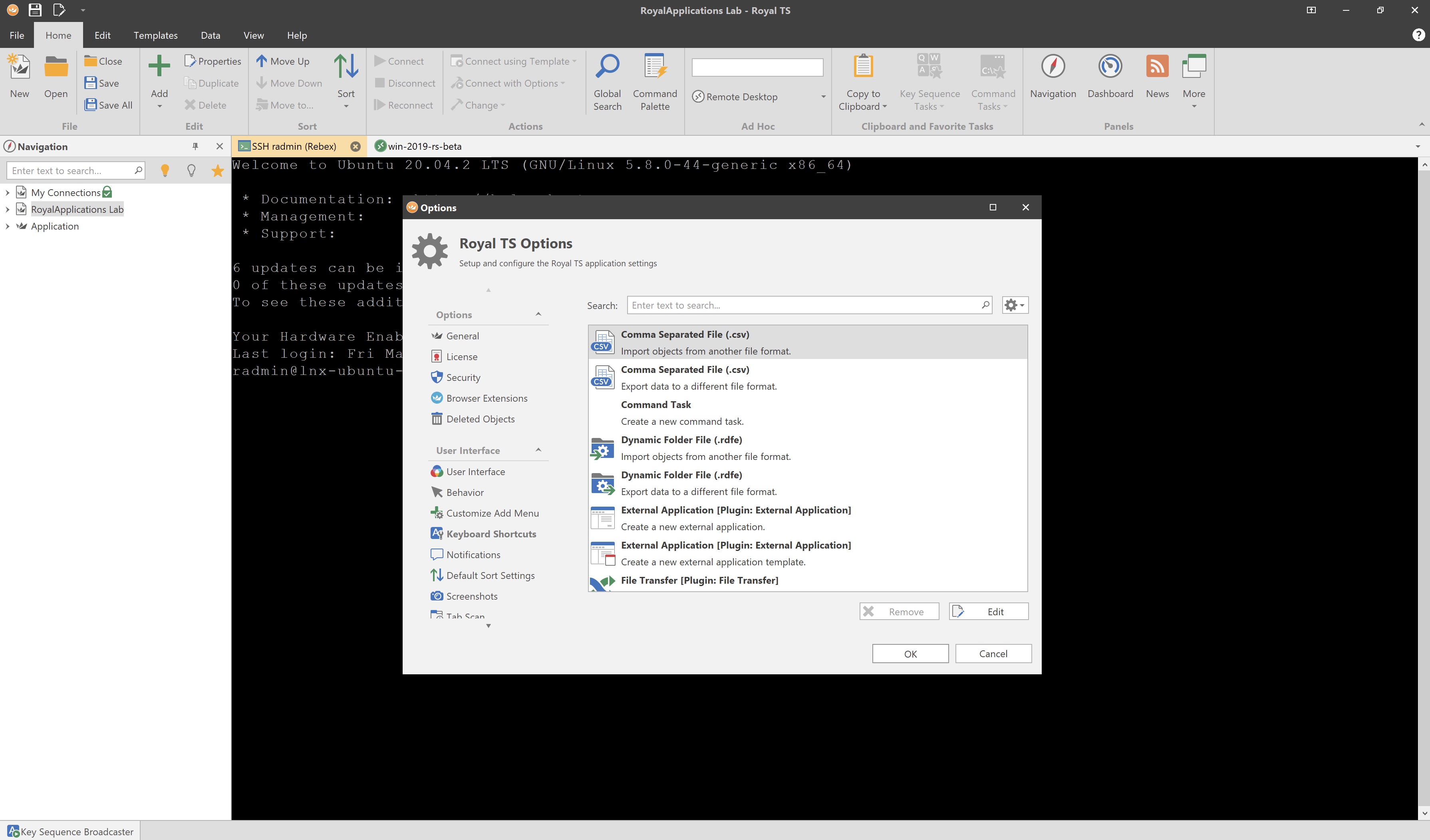 Before diving into all the great, new features, we want to take a quick moment to talk about some fundamental changes we made and the impact they will have for you and us going forward. Royal TS 6.0 is now a "self-contained" .NET 5 application which means that the requirement to have the correct .NET Framework installed is gone. We ship all the necessary files which are needed to run Royal TS. Our download packages are now a bit bigger but switching to .NET 5 certainly has its benefits:
Improved memory usage and performance: previous versions were pre-compiled during installation to get acceptable performance. This pre-compilation took a while to complete. With .NET 5 this is no longer necessary. Royal TS V6 runs faster without any pre-compilation than Royal TS V5 or any other previous version with pre-compilation.
Independence of system-wide installed frameworks: in the past we had situations where something broke because the .NET Framework had been updated. Since it's now included with Royal TS, this cannot happen anymore.
Future development benefits: the switch to .NET 5 Framework opens the road for faster updates and future improvements (like High-DPI, ARM64 support, etc.).
Also worth mentioning is that we are now focusing on x64 targeting and are essentially dropping support for the x86 architecture. Royal TS might still work in x86 environments but we will not actively test our app on that architecture. As soon as we get proper ARM64 support from Microsoft for our toolchain, we will also focus on providing support for this architecture.
With these important under-the-hood changes out of the way, let's dive into new features:
You can customize keyboard shortcuts and assign keyboard shortcuts to tasks or specific connections you want to connect to.
A global search and command palette window to navigate Royal TS using the keyboard.
Windows Hello Support when opening password protected documents.
Per-Monitor DPI awareness.
Keyboard broadcasting for Rebex-based terminal connections (typing in multiple sessions at the same time).
A Command Palette window to search and execute commands using CTRL+WIN+.
These are just some of the awesome new features in Royal TS 6.0. Of course there's a host of additional improvements, enhancements and new features which you can read more about here.
Royal TSX (for macOS) 5.0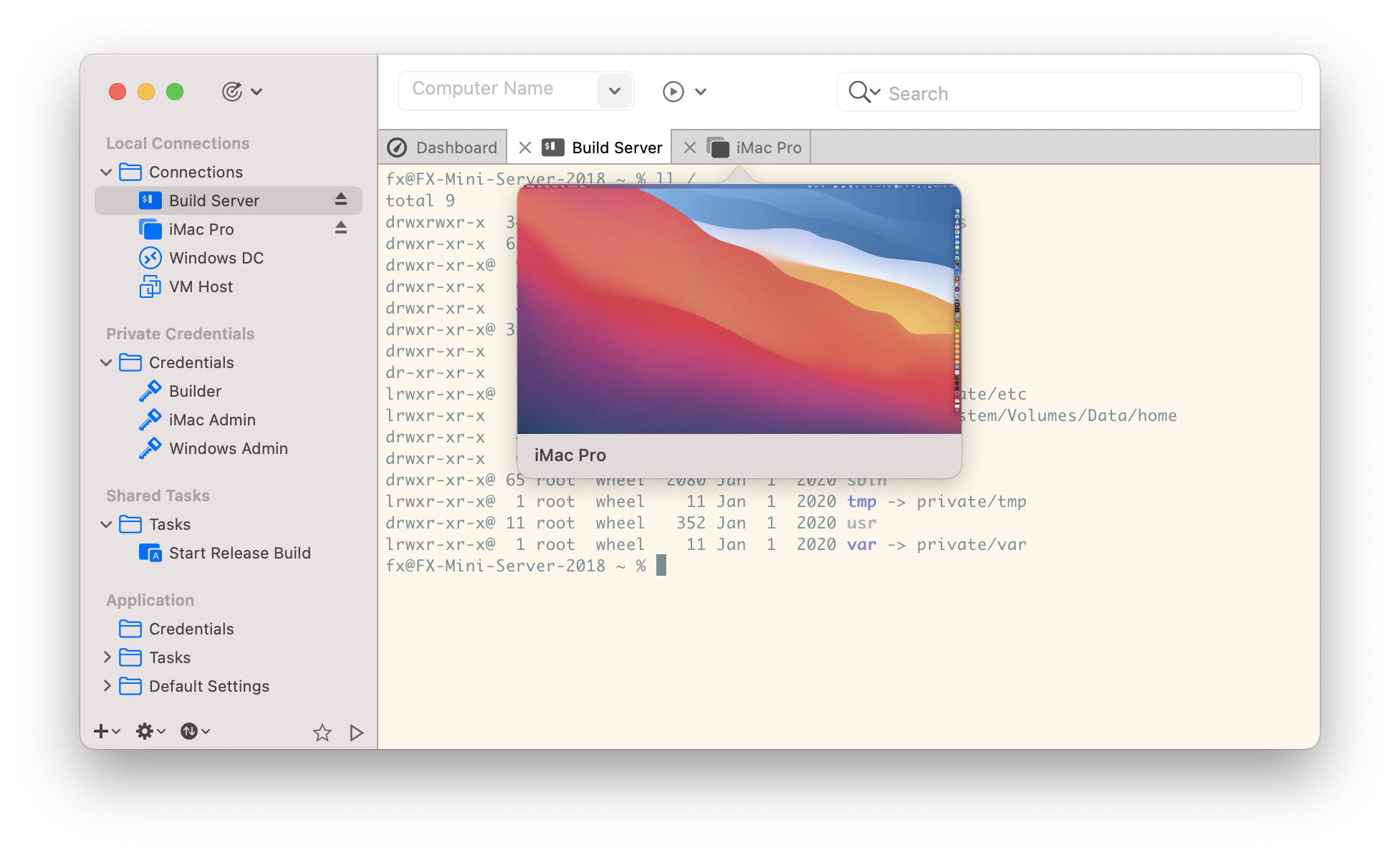 Royal TSX has always focused on providing a streamlined and clean user interface that feels intuitive for our macOS users. At the same time, we strive to make the app more powerful with every release and aim to eek out every bit of performance. In this release we're taking all of these core values to the next level!
Royal TSX 5.0 has been redesigned to fit perfectly into the design language of macOS 11 Big Sur.
Every icon in the app has been redesigned and updated to make this our most uniform, cohesive and consistent looking release ever.
Royal TSX 5.0 natively supports Apple's awesome M1 chips. Making Royal TSX run natively (without Rosetta 2) on Apple silicon Macs has resulted in a major performance boost which you just have to experience to believe it.
The "Overview" has been completely re-written from scratch and not just looks better than ever but also supports multi-select, a full context-menu, custom colors and icons, progress indicators and more. Also, connection thumbnails are now available for all connection types.
The tab bar gained a new Safari-inspired tab preview feature when hovering over tabs. You can even customize the size of the connection thumbnails.
A new color picker allows you to quickly select colors for your objects. The selected colors are automatically tuned to the OS theme (light or dark) which results in legible text, no matter which color and OS appearance you choose.
You can now configure Secure Gateways to be used on-demand and connect through nested/chained tunnels. So if you need one or more intermediate hops to reach your target host, we got you covered.
The new "Information" object type allows you to store arbitrary data, like software licenses, credit cards, driver licenses, etc. We even provide templates for the most common data types.
There are many, many more "quality-of-life" improvements in this release like being able to store your 1Password and KeePass master passwords in the Keychain and protecting them with Touch ID. Or the fact that you can now filter the navigation panel to show only connected sessions. Configuring and managing inheritance of credentials, tasks and gateways is now easier than ever. Terminal and File Transfer connections also received substantial updates and of course, we improved performance wherever we saw an opportunity to make things more fluid.
There's so much more exciting stuff in this release which you can read more about on this dedicated website.
Royal Server 4.0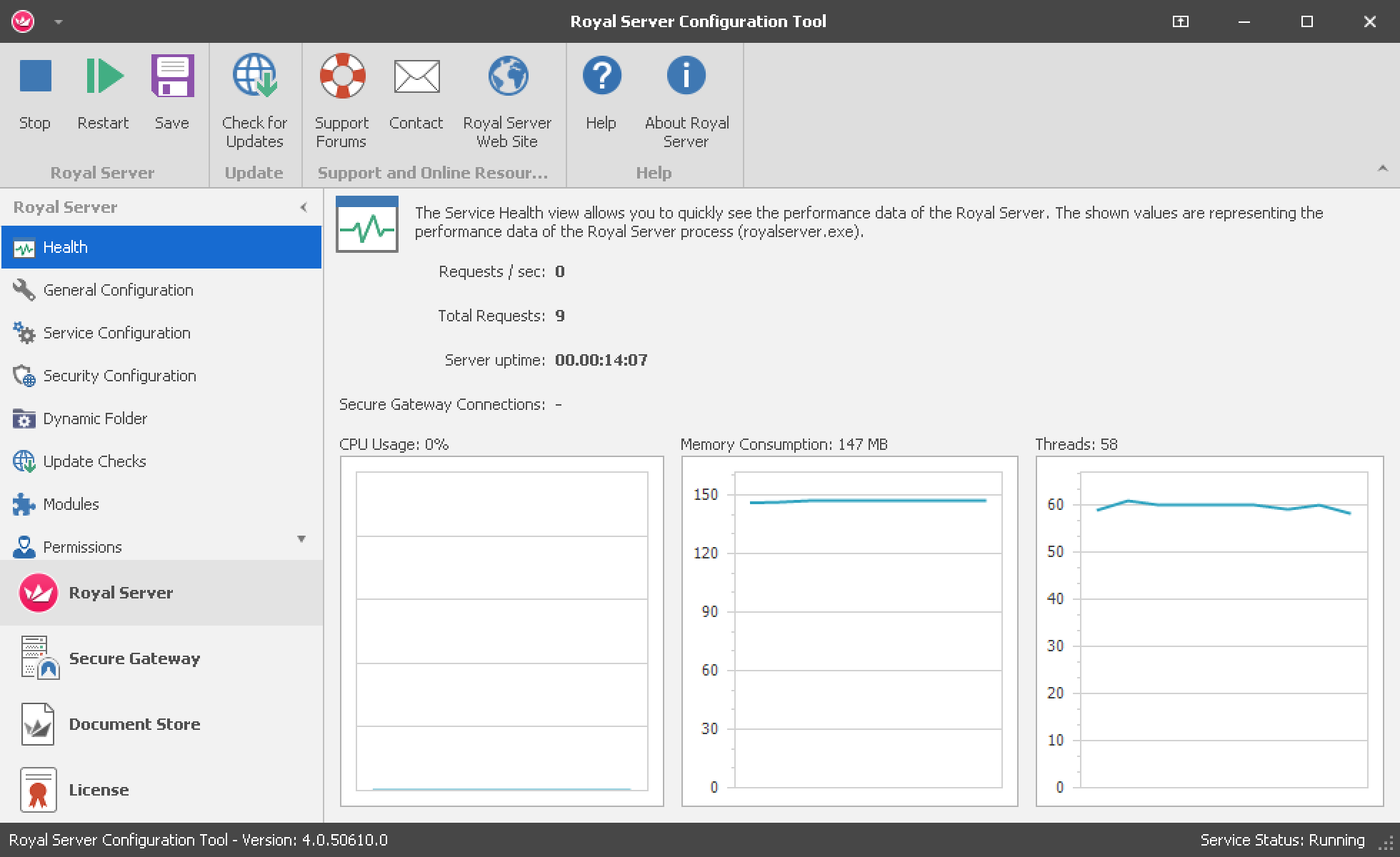 Arguably, the most important features of any server product are stability, performance and reliability. And that's exactly what we've been focusing on for this release.
Royal Server V4 received the same .NET 5 treatment as Royal TS (for Windows). This means that memory usage and performance are much improved. There's no need to install the "correct" .NET Framework anymore as it is now packaged with Royal Server. And the switch to .NET 5 of course also has the same future development benefits we already outlined in the Royal TS (for Windows) section.
In addition to these valuable under-the-hood improvements, we also revamped the configuration system to be both, more powerful and more flexible at the same time. All logging-related functionality has been improved too and is now more configurable, powerful and reliable than before.
Of course, there are more features and improvements in this release which you can read about on this dedicated website.
This concludes our quick overview over what's new in our products, but there's one last thing we'd like to share with you…
Customer Portal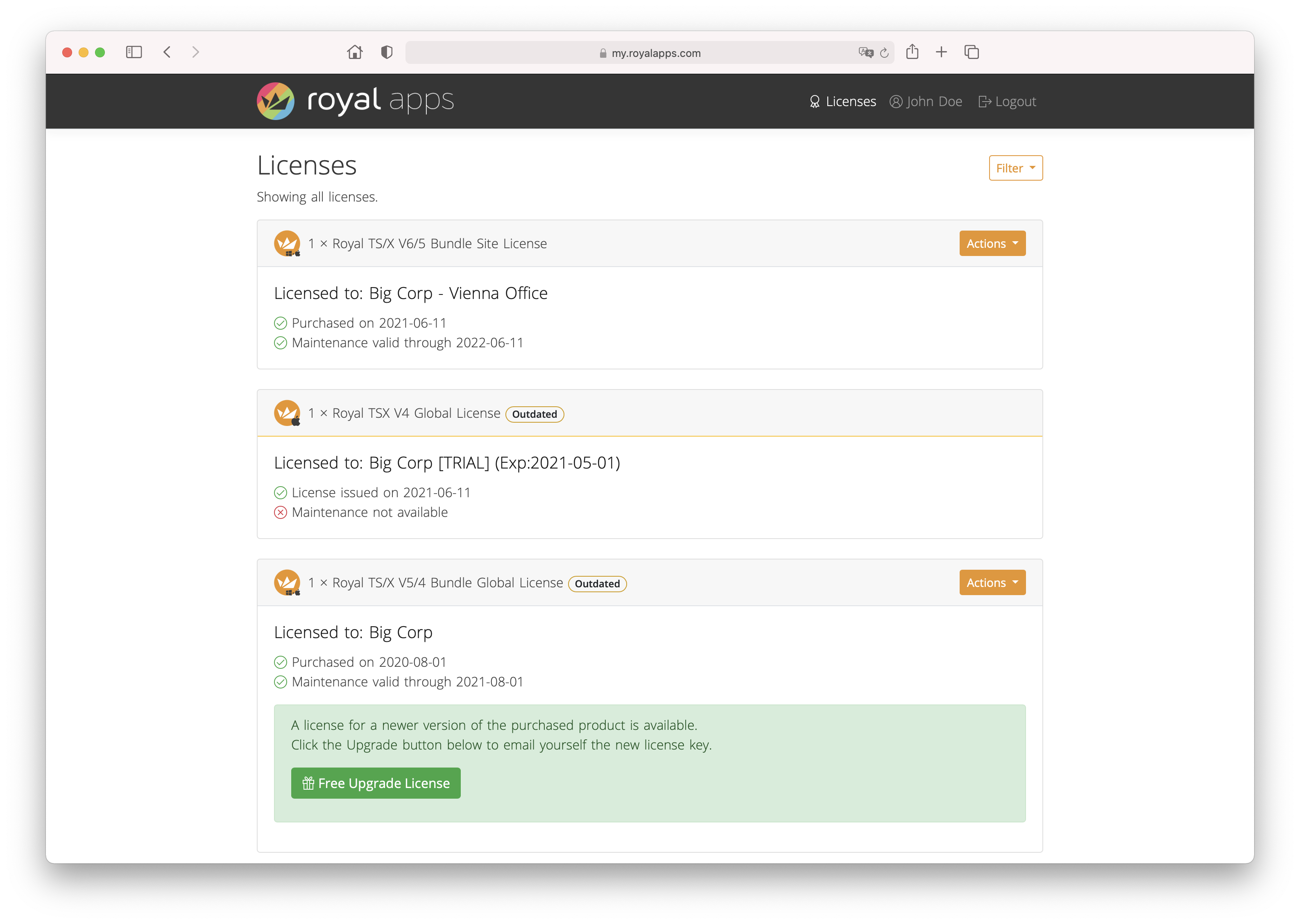 Finally! We now have our very own customer portal at my.royalapps.com!
The customer portal allows you to easily manage your existing licenses, extend your maintenance and even request free upgrades. By default, it shows all licenses that are covered by active software maintenance. In case you want to also see your older licenses, you can adjust the filter to show all licenses.
To get started, just register with the email address you used during the order process.
We hope you enjoy these great, new updates to our products and our brand new customer portal as much as we enjoyed building them over the past two years.
Enjoy the summer! Your Royal Apps Team